A guide to understanding how to convert penis size for best condom width.
Knowing condom size is one thing.  Knowing what size best fits is another. Condom shopping is a daunting task no thanks to marketing gimmicks. Even looking past the clutter of overused adjectives like "thinnest" and "most sensitive", you still need to decode the actual size dimensions (if they are labeled at all!).
Companies typically report the condom width only.  This is determined by laying the condom flat, so it does not match penis circumference.  So how are you sure that this one-dimensional measure will match your three-dimensional penis?
It's not like you can take a box of condoms to the changing room and try one on before you buy.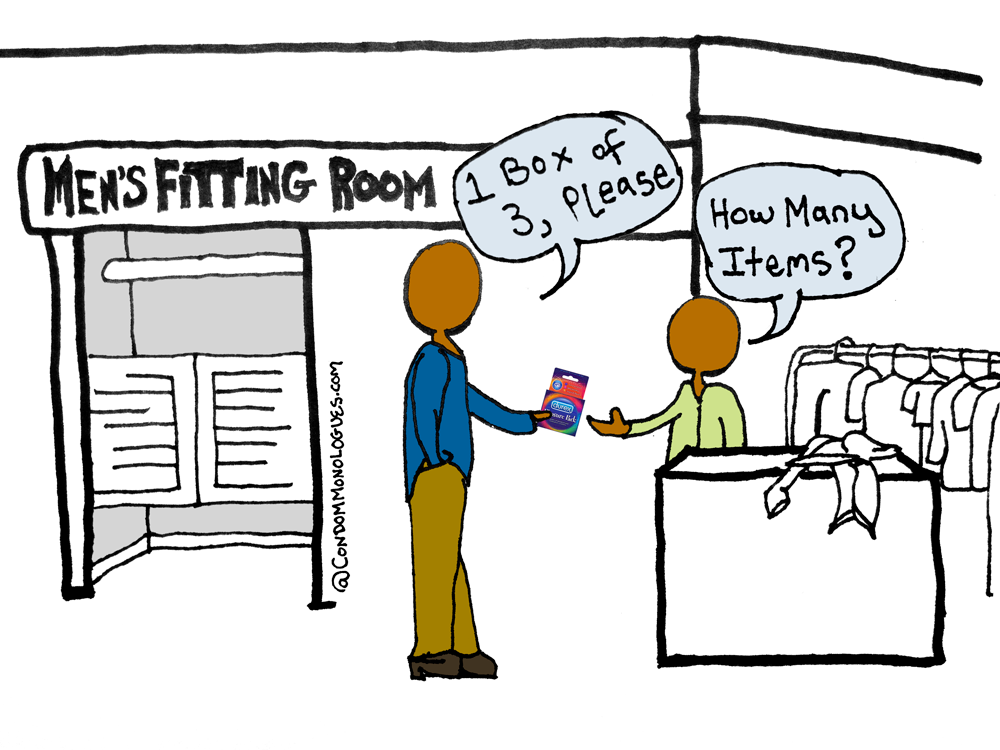 One blogger has taken on this condom conundrum by collecting numerous studies. "Alex", the creator of Condom Sizes & Facts, is not an expert, but he has organized findings from various scientific surveys to allow readers come to their own conclusions about condom sizing. We got the opportunity to ask Alex about some of his personal conclusions.
He breaks down three things you need the know about average penis size surveys before you start believing that you are abnormal, and he gives pointers to keep in mind when condom shopping.  Also, he fine tunes the magic number 2.25 from our formula:
Penis girth / 2.25 = approx condom width
We begin with republishing this data from his blog. The table matches penis to condom size. From this data, you may understand why an "average" size man may fit a magnum condom. These numbers are approximate guides from the research on Alex's blog. Fitting may vary depending on condom elasticity and personal preference. Affiliate links within. 
Penis Girth to Condom Width Chart
| Penis Girth | Condom Width | Penis Girth | Condom Width | e.g. Major Brand Condoms |
| --- | --- | --- | --- | --- |
| Inches | | Milimeters | | |
| 3.70 - 4.13 | 1.85 | 94 - 105 | 47 | - |
| 4.14 - 4.33 | 1.85 - 1.97 | 106 - 110 | 47 - 49 | LifeStyles Snugger Fit, Caution Wear Iron Grip, Durex Enhanced Pleasure |
| 4.34 - 4.53 | 1.93 - 1.97 | 111 - 115 | 49 - 51 | Glyde Slim Fit, LifeStyles 3SUM, RFSU Mamba, Beyond Seven |
| 4.54 - 4.72 | 1.97 - 2.09 | 115 - 120 | 50 - 53 | LifeStyles Ultra Sensitive, Kimono MicroThin, Beyond Seven Studded |
| 4.73 - 4.92 | 2.05 - 2.17 | 121 - 125 | 52 - 55 | LifeStyles SKYN, Trojan BareSkin, Durex Love |
| 4.93 - 5.12 | 2.13 - 2.24 | 126 - 130 | 54 - 57 | Trojan Magnum, LifeStyles KYNG, LifeStyles SKYN Large, RFSU Grande |
| 5.13 - 5.31 | 2.20 - 2.36 | 130 - 135 | 57 - 60 | Glyde Maxi, ONE The Legend, Magnum XL |
| 5.52 - 5.91 | 2.36 - 2.52 | 141 - 150 | 60 - 64 | |
| > 5.91 | 2.72 | >150 | 69 | Trojan Naturalamb, FC2 internal condom |
View the original table which also explains the research behind these figures. To view more condom size, check out our condom size calculator.
Condom Monologues: First of all, how would you like to be credited?
Alex from Condom Sizes and Facts: That's a perfect first question. I don't want to be credited because I am not an expert. Data I have collected are public and I did not produce them. I barely used them to make my opinion and decided to share it.
CM: In your investigation into penis size, you explain that very few studies sponsored by condom companies actually produce sound scientific data. In fact, average penis size may be smaller and more varied than companies have previously reported. Please cite which penis size survey(s) you trust the most and why?
CSF: First I would like to be perfectly clear: penis size is not interesting "per se", especially length, which is what most people mean when talking about size. You have 3 kinds of studies:
1) self-reported measurements: men report their penile dimensions. The averages are typically 15.6–16.6 cm for length and 12.2–13.6 cm for girth.
Examples: Kinsey study, Internet survey by Richard Edwards, Durex survey.
These studies are of poor interest and rather have readers feel inadequate due to the somewhat high over-estimates.
2) pharmacological measurements: measurements are conducted by researchers , either directly or by men after a proper training. The averages are typically 12.9–14.5 cm for length and 11.9–12.3 cm for girth.
They are of great value, but one needs to get the whole article to judge the quality: some have been performed on men with erectile dysfunctions, some use a very small sample, where representation is heavily questioned, methods of measurements often vary (base, mid-points, under the glans, "bone pressed" or not), or the measurement itself is different (width, circumference, and mode of erection).
The Wessells and the Schneider studies are very good examples.
3) The last kind is a hybrid between a) and b). These are the self-reported studies where:
the sample has been carefully selected (or big enough to cancel the possible bias),
a harmonized measurement method is clearly explained to ensure standard practices and avoid inconsistencies, men are motivated to measure their penis carefully and to report accurate data.
The averages are typically 13–14.2cm for length and 12–12.2 cm for girth.
The Herbernick and TheyFit studies are good examples. Their values reside in the huge samples from which they get the data.
There is no survey I trust the most. Rather, it is the consistency through the various serious surveys which should be trusted.
CM: In order to determine proper condom width, would you recommend dividing penis circumference by 2.25? How do you arrive at this approximation? And what do people need to consider about elasticity?
CSF: Actually, researchers (Gerofi for example) have come to the conclusion that a condom should be stretched about 10 to 20%. This, translated in ratio between penis circumference and condom width gives a 2.2 (10%) to 2.4 (20%) division factor.
2.25 represent a 12.5% condom stretch. And to be perfectly honest, it is only my personal taste, with my preferred condom brand. I really don't like condoms fitting too snugly, but I do want a minimum grip to ensure safety.
The above values are calculated from an average elasticity, one has to know that it is the consequence of 1) condom thickness and 2) latex recipe.
You may not know these parameters when buying a condom. But be sure they do vary a lot between brands and condom types because companies use different ingredients. For example: TheyFit recommends a 2.37 dividing factor for its condoms.
The most important thing to understand is that you can use these figures as a guidance, but be sure to do your own research and trials. Real experience should always be the deciding factor.
CM: What is the most surprising thing you've come across in your penis-condom size research?

CSF: Two things: Condom latex recipes change drastically and thus vary condom elasticity.
Second, like many men, I discovered late that the fitting problems I was experiencing were not "normal" (not just something I had to put up with) nor a consequence of an inadequate technique. I was truly surprised the first time I changed my condom size and discovered what a good fit could mean: no more anxiety, all gone in one breath!
Have comments? Questions? Still not sure what condoms will fit? Leave a note below or message us on FB or Twitter.