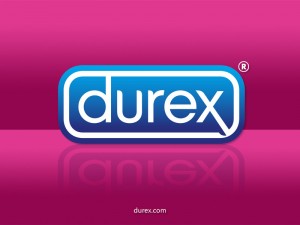 As Durex is the largest condom producer in the world, the Durex website organizes its products based on region and country.  This chart is tailored for the North American market (a Durex size chart with European products is coming soon!).  Our size chart is organized according to SIZE, TEXTURE, and LATEX/NON-LATEX.  We offer our own store bought measurements, as well as source from Condom Depot, Condom Jungle and Undercover Condoms.  Read more here about Durex and their BEST to WORST.

Measurement tip:
The average condom length in North America is 7.5″/190.5mm.  Most North American guys are between 5″-6″ (129.5mm-152.4mm). A recent study in the US nailed average erection down to 5.56 inches and 4.8inches girth (see our guide for measuring penis).  The average condom is made to fit a 4.8″/122mm girth.  At this girth, one can fit a condom that is between 52mm to 55mm base wide (width is measured by the condom lying flat; it is not the circumference). 
Confused about how penis circumference coverts to condom width? We have a helpful table and guide.
If you measure less than 4.8 inches in girth, go with a snugger fit.  Fit you are greater than 5.3 inches, select Large or XL. Durex and Trojan XL sizes tend to be slightly larger than Lifestyles condoms.  Durex XXL is larger than the Trojan Magnum XL.
(Not that measurements can vary give or take a few millimeters but this should not effect fitting as condoms are designed to flex.  Links to external sites may be affiliate links and could earn us a small commission)
In October 2013 we launched our Condom Size Calculator. It is more user friendly, offering a comparative search of over 100 condoms all at once.
SNUG FIT/Latex
(Durex does not offer small non-latex condoms).
Durex Enhanced Pleasure
Contoured shape for better fit and enhanced pleasure
Smooth lubricant
Designed for pleasant scent
Base width: 1.92"/49mm
Length: 6.7"/170mm
The new Avanti!
Thinner than any latex condom
Suitable for natural rubber latex sensitive users and the thicker than average guy.
Base width: 2.2"/55.8mm
Length: 7.5"/190mm
REGULAR/Latex
Special body heat activated climax control lubricant (active ingredient is Benzocaine) to help prolong male sexual performance
Silky lubricant on outside
Base width: 2.1"/54mm
Length: 7.9"/200mm
 Durex Sensi Thin
Durex's thinnest latex condom!
Specially made to have pleasure scent
Slightly snugger width and longer length than most regular sizes
Base width: 2.1"/5.4mm
Length: 7.9"/200mm
Durex Extra Sensitive
20% thinner than regular latex condoms
Lubricated and snug shaft for sleeker fit
Base width: 2.1"/54mm
Length: 7.9"/200mm
Durex Extra Strength
Extra durable and thicker than standard latex condoms
Transparent color and reservoir tip
Silky smooth lubricant
Base width: 2.1/53mm
Length: 7.5/ 190mm
Durex Natural Feeling
Ultra smooth water-based lubricant
Transparent color with reservoir tip
Slightly larger than regular size condoms
Base width: 2.0"/52mm
Length: 7.5"/190mm
Durex Natural Feeling Dry 
Non-lubricated for those who want dry condoms
(Ideal to apply your own flavored lube for safe oral sex).
Base width: 2.0″/ 52mm
Length: 7.5″/190mm
REGULAR/Textured/Latex
Durex PleasureMAX
Ribbed and studded for extra stimulation
Wide contoured shape at base and head
Base width: 2.15"/54mm
Length: 7.9/200mm
Durex Extra Sensitive Ribbed (a.k.a. Ultimate Feeling)
20% thinner than regular latex condoms
Now ribbed for amazing stimulation
Snug fitted shaft
Base width: 2.0"/51mm
Length: 7.5"/190mm
Durex High Sensation Ribbed
Deep textured lines for partner's pleasure
Includes ribs positioned near the base for extra sensation
Base width: 2.1"/ 53mm
Length: 7.5"/ 190mm 
Durex Intense Sensation Studded
Textured with over 100 studs for extreme pleasure
Specially made for low-latex scent
Base width: 2.0"/51mm
Length: 7.9"/200mm
Durex Mutal Pleasure
Ribbed and raised bumps along shaft and head
Fitted tapered form
Double lubricant
Base width: 2.0″/ 51mm
Length: 7.9″/ 200mm
Durex Pleasure Pack
Includes High Sensation, Extra Sensitive, PleasureMAX, and Tropical flavor
LARGE & XXL/Latex 
(Durex does not make non-latex large condoms.  LifeStyles' SKYN is the most popular large-sized polyisoprene condom)
 Durex Maximum Love
20% thinner than standard latex condoms
Unique easy-on design with extra silk lubricant for natural feel
On the larger end of the regular condom size bracket
Base width: 2.1"/54mm
Length: 8"/205mm
Durex XXL
The largest condom made by Durex!
Classic straight shape and lubricated
Compared to Trojan Magnum XL, Durex XL is wider at the base and longer, but narrower head than Magnums.
Base width: 2.3"/58mm
Length: 8.3"/210.8mm
The Legal Stuff: Age of consent and medical advice
The size charts are made for you to consult and hopefully find the brand that suits within your size range and needs. If you cannot find the answer to your question, just ask. But please be aware that we do not condone sexual activity of under-age males and females in state or country.  Also, we are not medical professionals. We offer opinions from personal experience and research.  Professional advice should always be sought.
For a younger audience, here is one place to start:  SEX etc.  And  for all ages Planned Parenthood is highly recommended.