See sex positivity through the eyes of empowerment guru, Ashley Manta, and you'll start to redefine your weakness for strength. By a personalized, "be yourself" approach to sexuality & gender, her work unveils taboo topics like STIs, sexual violence and body confidence. Adaptive and progressive as the sex positive community may be, Manta argues that it lags behind in the way of STI awareness and prevention. Words like "clean" and "dirty" are not in this teacher's vocabulary; "vulva owner" and "body safe dildos" are.
1) Identify one or two trends, or influential people in the Sex Positive community that you identify with (or are inspired by) and those trends which you relate to not-so-much.
One of the trends that I love in the sex positive community right now is the emphasis on collaboration over competition. For a long time, sex educators and bloggers were operating from a model of scarcity where there must be a finite number of potential readers or audiences and thus we must push each other down to get our message out. Now we are supporting one another in every possible way. I first noticed this when I attended Tristan Taormino's "Sex Educator Boot Camp" at CatalystCon East in March. She pointed out that we're all in this together and by supporting each other, we're creating a thriving community. Doing something as simple as keeping a blog roll or a "sex positive resources" page on one's website is enough to show visitors "hey, I'm not the only game in town and I want you to find a voice that really resonates with you." I would always prefer that someone hire me because they vibe with me and not because they think I'm the only option they have. There are so many amazing educators with different experiences who bring rich conversations to any audience. I want people to experience all of them, not just me.
A trend that I'm less crazy about is the "consent is sexy" messaging. As a sexual assault survivor and someone who has done extensive work in sexual violence prevention, I appreciate the intention of the message. It's a catchy phrase and it does get people talking about consent, which is a good thing. My concern is that it's an oversimplification. Consent is not always sexy—sometimes it's downright awkward. Having a conversation about boundaries, STI testing, and other pre-sex talking points can be incredibly difficult. That does not make it any less necessary. I think it's important to let people know that these conversations can be challenging and that good sexual communication takes practice. "Consent is sexy" can make it sound like having an explicit talk about boundaries is akin to an aphrodisiac. It's just not that simple. I worry that people will hear that message, make an attempt to start the conversation, and then become discouraged when it gets awkward. I would like to see more nuances in discussions about consent rather than trying to boil it down to a catch phrase.
2) How do you define "sex positivity" for yourself and your work? In other words, what is your primary passion and how do you distinguish your writings and interests from other branches of thought within the sex positive movement?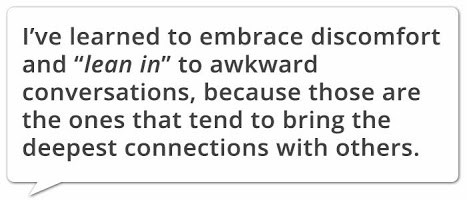 As a sex educator, I categorize my work as sex positive because I take a "no-shaming" approach to education. I believe sexuality is healthy, normal, and entirely optional. Rather than take a "sex is awesome everyone should do it" stance, I prefer to communicate a "be yourself" message. I would hate to alienate people who are asexual or not at a sexual point in their lives. At the same time, I make every attempt to celebrate sexuality in those who do choose to be sexual. I also believe sex positivity means sexual inclusivity, so I try to make my language about gender and sexuality as broad as possible. That means saying "vulva owners" instead of "women" and "how to please your partner" instead of "how to please your man." We live in an incredibly heteronormative, ableist, and cisgender normative culture and I want my writing and teaching to model inclusivity.
My primary passion is teaching. I believe that by sharing my experiences, I give others permission to do the same. My friend and colleague Kate McCombs calls it "being a beacon of permission." I would like to take sexuality out of the realm of giggles and whispers and bring it into daily conversation. I'm a huge fan of Brene Brown's work, which emphasizes vulnerability as being the key to connection (TedTalk video). As much as appropriate, I try to model that in my writing and teaching. I use my birth name instead of a pseudonym, share my story of being a sexual assault survivor, and write about living with Herpes and struggling with body confidence. I've learned to embrace discomfort and "lean in" to awkward conversations, because those are the ones that tend to bring the deepest connections with others.
3) What directions do you think sex positivity will take within the next 5 – 10 years? Or what topics and with what platforms would you like to see sex positivity develop more thoroughly within the next 5 – 10 years?
When I think about how much things have changed in just the past 5 years, I get so excited about the future! One of the things I see happening in the sex positive movement is a greater reliance on technology for getting the message out to the world. Social media, video chat, webinars—these tools are going to bring sex positivity to a greater audience than ever before. I believe we're going to get to a point where distance is no longer a barrier to bringing an educator into a classroom.
As more information begins to disseminate among the general population, I think there will be a trend toward body safe materials in sex toys and products. Currently the sex toy industry is completely unregulated, and I think with a growing awareness of the dangers of chemicals in certain types of toys, there will be a push for more regulation or oversight.
I would love to see the notions of "clean" and "dirty" disappear from conversations about STIs. This is an incredibly stigmatizing way to talk about having or not having an STI. Because it starts at an institutional level (not those words specifically but the emphasis on "STIs are bad"), I'd like to see Public Health and Sex Positive communities take a different approach to prevention and management. That will eventually trickle down into social norms. Having an STI is not the end of the world. Being ignorant about STIs is dangerous. There are consequences to not treating something like Chlamydia. That's why we need to raise awareness and encourage testing. At the same time, I think we're going to start realizing that STIs are part of being sexually active. The prevalence of HPV is skyrocketing and more than 20% of the US population has Herpes. I don't think that shaming people who have an STI is going to aid in prevention. If anything, it makes people less likely to talk about it. I think we need education about STIs and barrier options and greater access to testing and treatment.
A project that tackles STI stigma is The Herpes Opportunity. Recommended by Ashley.  
Opinions shared are the author's own. Want to participate in this interview series? What is your sex positivity?