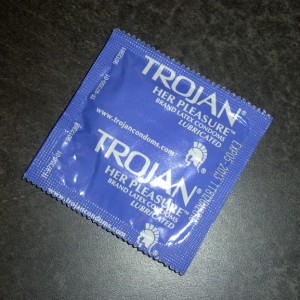 Trojan (at least in North America) is to condoms as Kleenex is to tissues.  It's original manufacturer, Young's Rubber Company, was the first to develop the latex condom in 1920 and has had a monopoly in drugstores ever since.  According to market research firm, SymphonyIRI Group, in 2010, Trojan took 70% of the US condom market bringing in about $270 million annually.
Trojan's Magnum line offers some of the largest of the crop, both long by wide.  Their Magnum XL is 8.1in/206mm length and 2.3in/55.88mm width (Durex XXL is 9.5in/241mm).  The rule of thumb: If you measure greater than 5.2in/132mm in girth, than Magnum condoms may be best for you.  If your girth is greater than 5.8in/147mm you might consider Magnum XL.
Best Condom:
Among their 27 condoms variations we found Trojan Supra with the highest rating by numerous independent sources, such as Slate Mag (2005), Undercover Condoms, CondomUSA, and Condom Jungle.  This condom is not made of latex, but of microsheer polyurethane, which bills it as "ultra thin" (not to be confused with Trojan's Ultra Thin latex version).  One major draw back: the Supra is only available with Nonoxynol-9, a spermicidal chemical.
Trojan Extended Pleasure is also popularly rated by the same sources.  It contains a special lubricant (benzocaine, a common anesthetic) that is very effective in preventing early ejaculation.  Personally, I found this condom to be unreliable and messy.  Here is my review from a few years ago. If you do try this condom, be careful not to spill the large glob of lubricant that sits at the tip.  It tastes and smells funny.
Not so hot:
On the flip side of Trojan's dominance, Condom Depot's annual condom awards reports Trojan condoms scoring low for four consecutive years.  Their reviews complain about a lack of sensitivity, dryness, and an overt latex smell.
This chart is updated continuously, but if you spot any inconsistencies or gaps, please let us know.
Image Source: http://en.wikipedia.org/wiki/Trojan_(condoms)