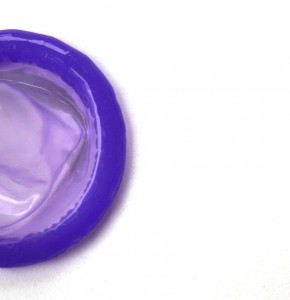 Options for non-latex condoms today are increasing and more people are choosing non-latex condoms regardless of latex allergies.  This is basically because the latest non-latex options are made of material that is softer, thinner, more elastic than latex rubber.  In this post, we explain basic facts about non-latex condoms, such as what the differences are between polyisoprene and polyurethane, and what are the advantages and disadvantages of different non-latex options. All condoms, except Lambskin, have the advantage of protecting against both sexually transmitted infections and unwanted pregnancy. Condoms do not require clinical visits, they do not alter hormones nor have physical side effects. Non-latex condoms are a key solution for those who are sensitive to latex.  Options include lambskin, polyurethane and polyisoprene condoms, AT-10 synthetic resin and synthetic nitrile rubber. Lambskin condoms, also known as "natural skin" or "sheepskin", are one of the oldest methods of birth control.  They are made of a thin layer of cecum which is part of the sheep's intestine.  The organic matter provides such intimate sensation that many users consider them the closest thing to not wearing a condom.  Lambskin condoms are effective at preventing pregnancy.  However, they do not prevent against sexually transmitted bacteria or viral infections, including herpes and HIV.  Now that there are other latex alternatives, lambskin may decline in popularity as other non-latex options- like polyurethane and polyisoprene- do provide protection against STIs and pregnancy.
Want to know the size and variety of non-latex condoms available on the market?  Do a comparative search at our Condom Calculator or visit our Non-Latex Condom and Dams Size Chart.
What are the benefits of lambskin condoms?
Lambskin condoms are suitable for people with latex allergies and sensitivities.
They are thin and have a high reputation of providing the best pleasure of all condom types.
They transmit body heat better than latex.
They are biodegradable
They can be used with oil, silicon and water-based lubricants
They protect against unwanted pregnancy.
They are typically available in most drugstores and can be easily bought online.
What are the disadvantages of lambskin condoms?
They do not protect against sexually transmitted infections and diseases.
They do not protect against the risks of oral sex.
They are expensive; approximately $3.00 each compared to the average Trojan latex condom cost of 0.50 each.
Trojan is the only manufacturer of lambskin condoms in North America.
They are not vegan
The first FDA approved polyurethane condom was Durex Avanti in the 1990s.  Compared to latex, polyurethane condoms are thinner and do not have a scent.  While very durable, polyurethane is less elastic and snug fitting than latex, making the risk of slippage or breakage higher.  Thus lubrication (oil, silicone, or water-base) is highly recommended for penetrative sex.  In 2009, Durex started manufacturing polyisoprene condoms instead of polyurethane, now called Avanti Bare Real Feel. Today, Trojan SUPRA is the most popular polyurethane condom on the North American market.
Benefits of Polyurethane
Thinner and less odor than latex
Transmits body heat very well
Can be used with oil, silicon and water-based lubricants
Available for female condoms and dental dams
They cost more than latex condoms, but are cheaper than lambskin
Ideal for those who prefer less tight, less body forming fit.
Disadvantages of Polyurethane
They are less elastic and are loose fitting compared to latex, thus increasing the risk of malfunction if no lubricant is used.
They are not biodegradable
Not easily accessible in all drugstores or supermarkets
Polyisoprene came on the market in 2008 by LifeStyles SKYN product line, and soon after Durex re-manufactured Avanti Bare Real Feel with the new material.  It is a natural rubber that is chemically similar to latex, but without the latex allergens.  In comparison to polyurethane condoms, polyisoprene is softer, more supple and form fitting, and slightly thicker (similar thickness to standard latex).  To date, polyisoprene condoms are sold in North America by LifeStyles and Durex.
Advantages of Polyisoprene
Softer, more elastic and form-fitting than both latex and polyurethane.
They transmit heat better than latex
They are cheaper than polyurethane condoms, but not as cheap as latex.
Disadvantages of Polyiosprene
Not biodegradable
Cannot be used with oil-based lubricants
Not made in both male and female form.
Not as readily available in stores; easier to find and buy online.
Nitrile Rubber: FC2 is the most common female condom globally and the only female condom available in North America.  In 2009, FC2 began manufacturing with nitrile rubber, which offers the same benefits and protection as polyurethane, but is less expensive to produce.  It is also softer and more supple than polyurethane.
Benefits of Nitrile Rubber
Hypo-allergenic
Protects against STIs and pregnancy
Significantly less expensive than other female condoms
Less likely to make the infamous crinkling noises as polyurethane femidoms.
Softer, more form-fitting, and supple than polyurethane.
Can use oil, silicon and oil-base lubricants
Disadvantages of Nitrile Rubber
Not biodegradable
2X more expensive than male condoms
Not easily accessible in drugstores and supermarkets
This is a post that will be updated.  If you know of other non-latex condom options, please let us know.  And don't be shy to ask any questions or leave comments here.